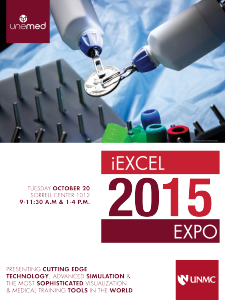 OMAHA, Neb. (October 19, 2015)—When Innovation Week kicks off today at the University of Nebraska Medical Center, people will get an early glimpse at the future of medical education during a hands-on expo that will feature some of the most advanced training and simulation equipment in the world.
UNMC's bold initiative called Interprofessional Experiential Center for Enduring Learning, or iEXCEL, will feature cutting edge medical training tools in simulation and 3D visualization technologies that will allow the clinicians of tomorrow to learn more at a faster pace than ever before.
"What aviation simulation did for the flight industry, iEXCEL will do for health care education," UNMC Chancellor Jeffrey P. Gold, M.D., said.
UNMC employees, students, staff and the general public will have the rare opportunity to get a closer look at these technologies Tuesday, October 20 when UNeMed and the Office of the Vice Chancellor Research host the "iEXCEL Expo" all day at the Michael F. Sorrell Center at the intersection of 42nd and Emile streets.
The Expo will be held in two sessions, first at 9-11:30 a.m., then again at 1-4 p.m. Admission is free and everyone is welcome.