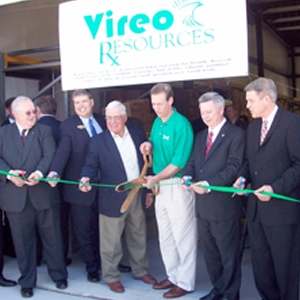 The creation of new jobs in these difficult times was cause for a celebration at a recent ceremonial ribbon-cutting in Plattsmouth that involved UNMC.
Vireo Resources, which began operations in January, will process and package human nutritional products and  animal health care products.  Technology for the products was developed at UNMC.
UNeMed, the marketing and licensing arm for UNMC, issued a license to Vireo, which commercialized the medical center technology and established Vireo Resources in Plattsmouth.
"I'm delighted the work of UNMC faculty has led to products being manufactured in Nebraska by Nebraskans," said James Linder, M.D., CEO of UNeMed and associate vice chancellor for research at UNMC.  "The university can make important contributions to economic development through the commercialization of new inventions and technology."
UNeMed licensed the technology for the product — StayActiv – in 2007 to Vireo Systems, Inc., of Madison, Tenn., Vireo Resources' parent company, which makes raw materials for creams and powders to manufacture products for retail distribution and sale.
The technology behind StayActiv was invented in the late 1990s by a UNMC research team led by Jonathan Vennerstrom, Ph.D., and Donald Miller, Ph.D.  The team included Sam Augustine, Pharm.D., Tom McDonald, Ph.D., Jon Wagner, Pharm.D., and Dennis Robinson, Ph.D.
StayActiv, sold as a capsule or cream, is advertised as a product that provides fast pain relief and also promotes repair of muscles, joints and tissue.
"It is the only product on the market that targets inflammation and lactic acid — the two main sources of pain," said Mark Faulkner, owner of Vireo Systems, Inc. "It promotes relief from the release of prostaglandins and supports a reduction in the buildup of lactic acid.
"It has been shown to be as effective as ibuprofen in relieving inflammation." A similar product made by Vireo, called RejuvenatePlus, also is a technology developed by UNMC. It is marketed for animals and provides joint and muscle relief in aging pets.
UNeMed licensed the technology under its new initiative that waives and/or defers licensing fees and other upfront costs for new or expanding Nebraska businesses.
Businesses must demonstrate committed management, a sound business plan that increases the payroll in Nebraska, and sufficient capital to execute the business plan. The initiative, called AdvanceNebraska is designed to promote economic growth in Nebraska and create new jobs.
Participants in the ceremony included Dr. Linder, Faulkner, Gov. Dave Heineman, Plattsmouth Mayor Paul Lambert and Richard Baier, director of the Nebraska Department of Economic Development.
"The state's biomedical industry is taking a significant step forward with (this) groundbreaking," Heineman said. "We are positioned to attract even more biomedical companies, with the added bonus of being able to offer development-ready technologies formulated right here at our exceptional university medical center."
Faulkner said he's particularly grateful to the Department of Economic Development for working with him for more than two years to find the right place.
"Without their assistance, locating this plant in Nebraska wouldn't have happened," he said. "This has been a great cooperative effort between UNMC, the state's department of economic development and the city of Plattsmouth."
UNMC researchers and Vireo have worked together for more than seven years on various projects, some of which have been marketed and patents are pending for several new products. Since 2002, Vireo has worked with UNMC and major universities to develop, study and prove the safety and effectiveness of StayActiv and other products, Faulkner said.
Vireo Resources also offers manufacturing and packaging services to other companies.
UNeMed, which was incorporated in 1991 to commercialize new technology developed at UNMC, is wholly-owned by the University of Nebraska.