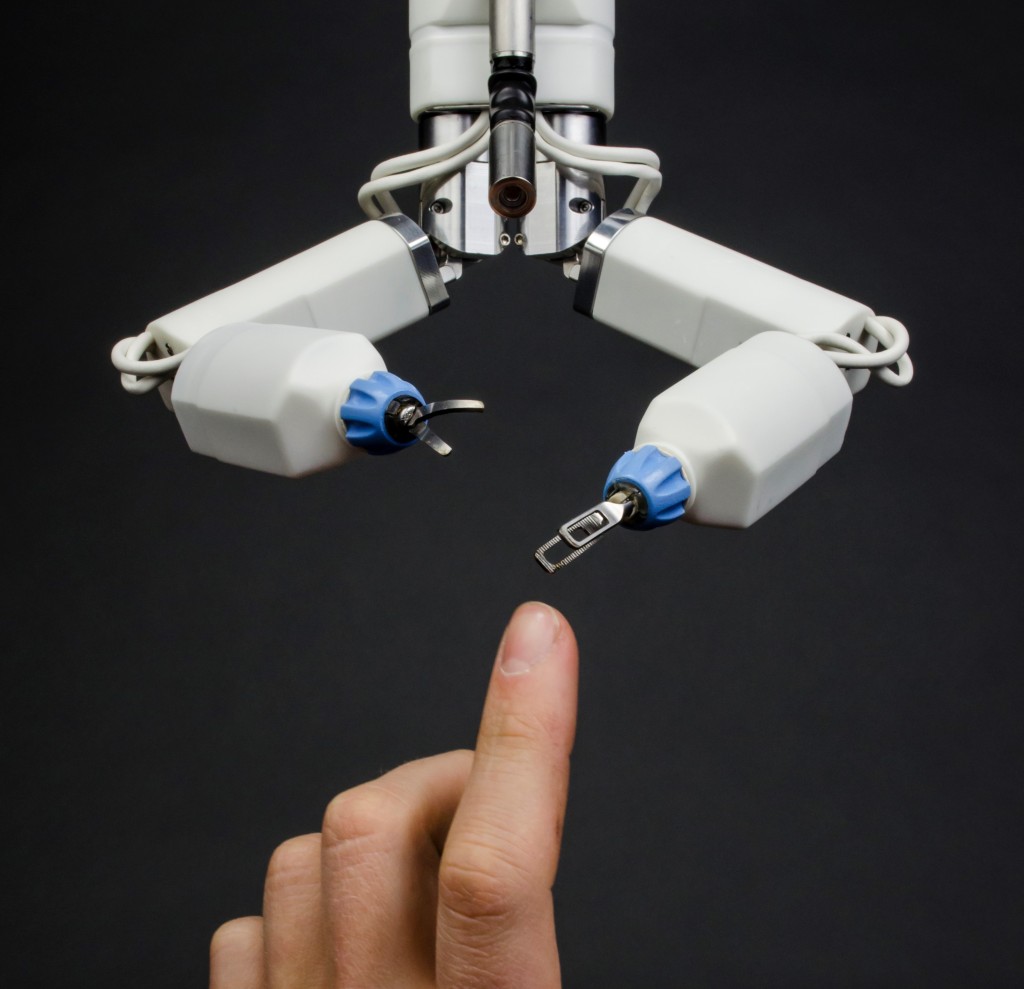 OMAHA, Neb. (Aug. 11, 2015)—A UNeMed startup company built on research at two University of Nebraska campuses announced on Aug. 6 that it landed $11.2 million of equity financing during its most recent round of fund-raising.
Born from a collaboration between UNMC professor of surgery Dmitry Oleynikov, M.D., and UNL professor of engineering Shane Farritor, Ph.D., Virtual Incision Corp. is developing a surgical robot that could turn highly invasive surgeries into laparoscopic procedures. UNeMed, the technology transfer and commercialization office for UNMC, secured the intellectual property rights and licensed the technology that founded the company. Virtual Incision's technology is based on UNMC-UNL research that has been funded by the Department of Defense and NASA.
According to Virtual Incision's Aug. 6 announcement, the capital fundraising was led by Bluestem Capital of Sioux Falls, S.D. The round of financing was oversubscribed with participation from existing investors, including PrairieGold Venture Partners, also of Sioux Falls. Virtual Incision has also received funding from Nebraska's public-private venture development organization, Invest Nebraska.
The funds will allow for a feasibility study of the company's miniaturized surgical robot technology for colon resection, a complicated surgical procedure that removes a damaged or diseased section of a patient's colon. It's a treatment for patients with lower gastrointestinal diseases such as diverticulitis, Crohn's disease, inflammatory bowel disease, and colon cancer.
Current practice for a colon resection often requires a large incision, 8- to 12-inches, and up to six weeks of recovery time. Virtual Incision's robot needs an incision less than half that size, and operates entirely inside the patient's abdomen. Using an array of high-resolution video displays, the surgeon then manipulates the robot with a sophisticated set of controls.
Designed to utilize existing tools and techniques familiar to surgeons, Virtual Incision's robot will not require a dedicated operating room or specialized infrastructure, and, because of its much smaller size, is expected to be significantly less expensive than existing robotic alternatives for laparoscopic surgery. Because of these technological advances, the system could enable a minimally invasive approach to procedures performed by open surgery today.
In 2014 the University of Nebraska system honored Drs. Oleynikov and Farritor with its prestigious Innovation, Development and Engagement Award.