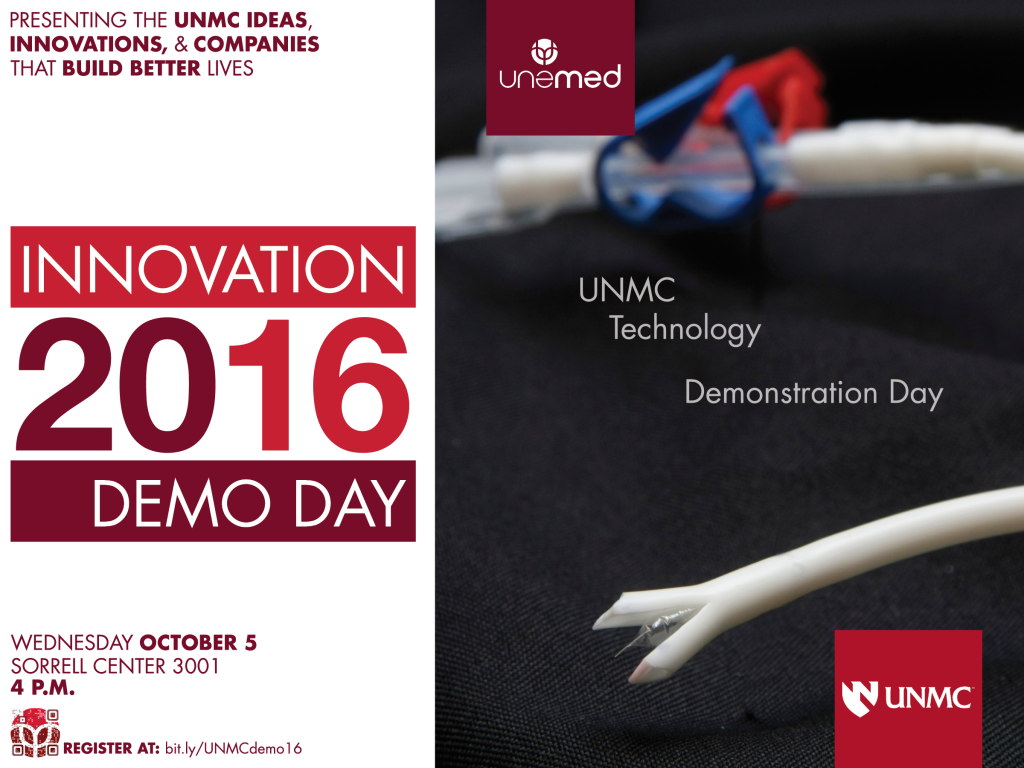 OMAHA, Neb. (Sept. 29, 2016)—Six biomedical startups and technologies will be on display at the UNMC Technology Demo Day in the Michael F. Sorrell Center amphitheater (MSC 3001) on Wednesday, Oct. 5, beginning at 4 p.m.
A part of UNeMed's 2016 Innovation Week, Demo Day will feature six short presentations, and will examine some UNMC technologies and partnerships that are moving toward the marketplace.
The featured companies and technologies will be Orion BioScience, sympathetic vasomotion, Avert, Prommune Inc., Cyborg Beast and Chrysalis Medical.
All presentations will be tailored to the non-expert and will run approximately 10 minutes each. A short question and answer session will follow each presentation. After, there will be a short reception with complimentary food and drinks. There, guests will also have the opportunity to meet with the inventors, company executives, and members of Nebraska's startup, venture capital and angel investor communities.
All Innovation Week events are free and open to all, but people may RSVP their intention to attend Demo Day here.
The evening will begin with Josh Sestak, Ph.D., the Chief Scientific Officer for Orion BioScience. A Nebraska startup based on an innovation originally developed at the University of Kansas, Orion is an Omaha company working on a platform technology to treat autoimmune diseases.
Peter Pellegrino, a UNMC researcher, follows with his presentation of a promising early-stage sympathetic vasomotion technology that's already attracting interest from industrial groups. The technology non-invasively measures the neural signals that regulate blood flow has applications related to high blood pressure, blood loss and neurodegenerative disease.
Also featured will be Avert's ground-breaking concussion detection platform. The device works much like a bathroom scale, measuring the nearly imperceptible shifts a person makes while standing still. Those shifts create a pattern, and the pattern changes when a person suffers brain injury.
CEO Sam Al-Murani will outline Prommune's approach to boosting innate immune systems to fight disease and infection. Prommune's platform technology delivers drugs to their intended target more efficiently and more effectively.
Cyborg Beast founder Jorge Zuniga, Ph.D., achieved some recent notoriety with the colorful prosthetic limbs he develops for children. One of his designs led to actor Robert Downey Jr. presenting a version of Zuniga's cybernetic "Iron Man" hand to a Florida boy. His goal is to provide low-cost or even free prosthetics to children around the world, and he is expected to outline some his latest developments.
Finally, Chrysalis Medical, a California company using technology invented at UNMC, will discuss what it believes is a disruptive device for hemodialysis patients. Often, dialysis patients have catheters that become blocked with a fibrous build-up that forces clinicians to replace the catheter, at no small risk to the patient. This new device could eliminate that need to replace the catheter.
Innovation Week will continue Thursday at the iEXCEL Expo where some of the most advanced medical training tools in the world will be on display for hands-on interaction. The Expo begins at 11:30 a.m. in room 1012 of the Sorrell Center.
Innovation Week concludes Thursday evening at 4 p.m. in the Durham Research Center auditorium with the Innovation Awards. There, UNeMed will name the 2016 Innovator of the Year and the 2016 Most Promising New Invention. Officials will also draw for a free 3D printer, which can be won by any UNMC personnel or student who enter the drawing at any Innovation Week event. They must be present at the drawing in order to win, however.
Other Innovation Week events include an open house and a 3D printing panel discussion. The open house is 9-11 a.m. Monday in the DRC atrium, where there will be free T-shirts, snacks and other goodies. The panel discussion is slated for Tuesday, Oct. 4, in the DRC auditorium, beginning at noon. The panel will discuss the potential impact and uses of 3D printing in healthcare.
For more information about all 2016 Innovation Week events, go to https://www.unemed.com/innovation-week.