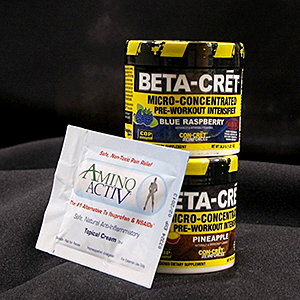 PLATTSMOUTH, Nebraska (Aug. 25, 2020)—Vireo Resources broke ground on a $50 million expansion that could create as many as 300 new jobs for the area, according to a recent report in the Omaha World-Herald.
Vireo is a Tennessee-based nutritional supplement company that offers products based on Jonathan Vennerstom's novel work with new creatine formulations at the University of Nebraska Medical Center. One of the products invented at UNMC is known by the trade name CON-CRET, and it helps improve strength and endurance while reducing recovery times from athletic activities. Another Vireo product based on UNMC innovation is AminoActiv, which promotes joint and muscle health.
Early success led to Vireo opening a manufacturing facility in Plattsmouth in 2008, and eventually expanded into a 10,000 square-foot facility in 2011. The latest expansion broke ground right next door, and will hold an additional 32,000 square feet. Altogether, the facilities will all fit within Vireo's 10-acre campus and could eventually add another 100,000 square feet, according to the World-Herald report.
Vireo currently employs about 40 people, but that could expand to more than 300 once the expansion is complete in about seven years.
The economic impact of the expansion, however, is not limited to just larger facilities or an injection of new jobs. As the World-Herald reports:
"…added jobs should help fill new housing proposed for Plattsmouth, including a $10.3 million project to convert the old high school near Eighth and Main Streets. An Omaha developer's plan, which includes public incentives, calls for 25 lofts in a renovated high school and 16 apartments in two newly constructed buildings.
"The adjacent Old Blue Devil stadium, which hasn't been used as a school district football field since the 1980s, would be transformed into single-family housing under a plan the city is trying to work out with a developer. The mayor said he expects up to 45 dwellings to be built.
"'We've got 200 to 300 jobs coming to this area,' [Plattsmouth Mayor Paul] Lambert said. 'Those people have to have some place to live.'"
Read the Omaha World-Herald's comprehensive report here: https://omaha.com/business/local/anti-coronavirus-product-helps-drive-plattsmouth-companys-exponential-growth/article_f52b8945-8ceb-5083-8b21-6f926d701725.html