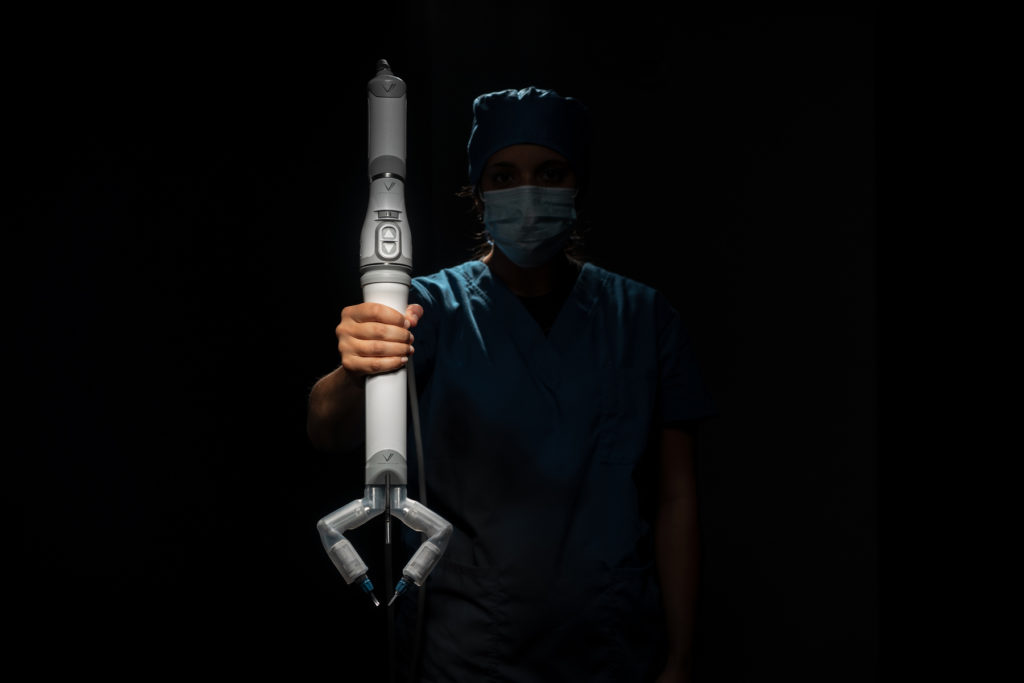 LINCOLN, Nebraska (January 8, 2020)—Virtual Incision, a surgical robotics startup, recently closed a Series B+ round of financing worth $20 million, the company announced today.
The funds will help push Virtual Incision's surgical robot through what might be the last regulatory hurdles before the robot can be used in human patients in the United States.
University of Nebraska-Lincoln robotics engineer Shane Farritor, Ph.D., and University of Nebraska Medical Center surgeon Dmitry Oleynikov, M.D., co-founded Virtual Incision. Their collaboration has built a surgical device that expects to take what were once open, highly invasive surgeries and transform them into minimally invasive, or laparoscopic, procedures.
Virtual incision's initial robotic design is called the MIRA Surgical Robotic Platform. MIRA stands for "miniaturized in vivo robotic assistant."
Weighing about two pounds, MIRA has a decided advantage over other robotic platforms, which require the dedicated space of an entire room.
Virtual Incision's robot, however, could easily move from one room to another, even for complex procedures such as a colon resection.
Colon resections involve a surgeon using a large incision to remove a portion of a patient's lower intestine. Such procedures often require months of recovery and rehabilitation. But when performed as a minimally invasive procedure—such as with Virtual Incision's one-of-a-kind robot—that recovery time would be better measured in days.
"Beyond our initial device design for colon resection, Virtual Incision has begun developing a family of procedure-specific mini-robots for additional operations such as hernia repair, gallbladder removal and others, potentially enabling millions more surgical procedures each year," Farritor said in the announcement.
Said Oleynikov: "We are focused on expanding access to minimally invasive robotic procedures and delivering this innovation to the many centers where a smaller, simpler and less costly solution is needed."
Bluestem Capital led the funding round, along with PrairieGold Venture Partners and Genesis Innovation Group.
According to the press release, Virtual Incision plans to file for an Investigational Device Exemption with the FDA. If approved, the company can then start a "confirmatory clinical study" that will "evaluate the safety and efficacy of the MIRA platform for colon resection surgeries in patients at a number of U.S. investigational sites."
Including the most recent raise, Virtual Incision has now attracted more than $50 million in investments since its initial founding in 2006.