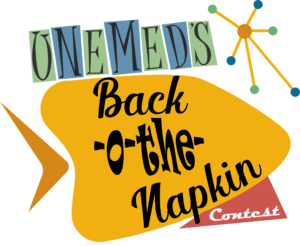 OMAHA, Nebraska (February 22, 2022)—The inaugural "Back-o-the-Napkin Contest" closed recently, with organizers selecting three winning inventions that will receive further development guidance and prototyping.
In no particular order, the three winning entries were a laser measurement device for jump testing; a design for a helmet that could replace face shields and respirators for healthcare workers; and a wearable ligation tool that could help improve a surgeon's ability to tie up arteries or other binding procedures.
The contest received entries from inventive faculty across clinical disciplines, including The Truhlsen Eye Institute, Department of Neurological Sciences, College of Allied Health Professions Division of Physical Therapy Education, Clinical Movement Analysis (CMOVA) Laboratory, College of Dentistry, College of Nursing, and the College of Medicine Department of Surgery.
The "Single Laser Measurement Device for Jump Testing" was submitted by Michael Rosenthal, Elizabeth Wellsandt and Michael Wellsandt. All three co-inventors are physical therapists in Allied Health. Their proposed device is a portable, single laser jump-testing device for repeatable, objective horizontal and vertical testing.
The "Beam Helmet" was submitted by Elizabeth Beam, PhD, a registered nurse in the College of Nursing. She designed a personalized, protective helmet for doctors that could replace filtering face piece respirators (FFR) and powered air-purifying respirators (PAPR).
Finally, the "Wearable Pinch Ligation Device – Python" was submitted by Quan Ly, MD, and Meghana Kashyap, MD, from the College of Medicine's Division of Surgery; and Larry Hart, a UNeTech prototyping fellow at Metropolitan Community College. Their invention is a wearable, electrosurgical ligation device to facilitate improved tissue sparing surgical procedures.
UNeMed, the technology transfer and commercialization office for UNMC and UNO, sponsored the  contest in collaboration with the James and Karen Linder Maker Studio at UNMC's McGoogan Library; UNO's Center for Innovation, Entrepreneurship, and Franchising; and UNeTech Institute.