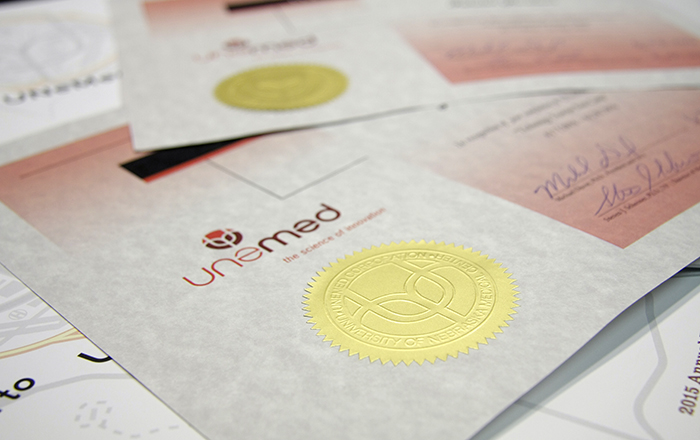 by Charlie Litton, UNeMed | Aug. 1, 2016
It turns out the Tech Transfer Boot Camp did more than we thought it would. Don't be alarmed if this sounds like shameless self-promotion.
It is.
Don't get me wrong, it's not that success is so rare we feel obliged to spike the ball and boogie around for a quick touchdown dance. (We're looking into an office gong for that sort of thing, but that's an entirely different story.) This humble-brag is more about sharing. It's exciting to find a new tool, and build a program that makes research more fruitful.
Yes, fruitful.
Our tech transfer camp is an extensive—if not intense—dive into the entire commercialization process. Often, what gets lost in the public perception of that process is the core goal: moving scientific discoveries forward. The fanciful misconception involves a blockbuster licensing deal with a major pharmaceutical firm that will reap the university a windfall greater than the GDP of the Marshall Islands.
The more pedestrian truth of commercialization almost always involves some form of sponsored research. Usually an industrial partner or investor picks up the tab for additional research that proves (or disproves) a new biomedical widget can actually work.
We might call these arrangements a dozen different things, and they might take different shapes—including startup companies and licensing agreements—but they all amount to the same thing: developing scientific discoveries into products that improve healthcare.
Without that industrial and commercial support, it's exceedingly difficult for a new discovery or development to go much further. If the goal of biomedical research is to improve lives, then it needs to move forward to survive. And survival is entirely dependent on continual financial support—no small feat in a world of diminishing federal research spending and shrinking budgets.
To bear fruit, a technology needs help, and those interested in ushering technologies through the commercialization process need some help too. Helping people navigate that process was our goal, and we took it seriously.
For the final session of the Tech Transfer Boot Camp, the campers—all of them holding doctorates or well on their way to one—were quizzed on all they should have learned from the experience. To be fair, the quizmasters were more like interrogators. There were six of them, all members of our licensing staff or upper management with more than 50 years of combined experience. All hold doctorates themselves, apart from the two patent attorneys with doctorate-level law degrees.
The grilling went on for over an hour, and at the end of it, they received their hard-won tech transfer certificates.
One Boot Camp alumnus told us their new-found command of the field just blew away an out-of-state tech transfer office during a job interview. A job was offered on the spot.
That's great news for our egos, and it helps us feel good about ourselves. But not everyone who joins us at Boot Camp plans a career in tech transfer.
So that's the bigger part of what we want the future incarnation of Boot Camp to do: Guide scientists and researchers toward a place where they can be better stewards of their own inventions and discoveries.
Help them understand the process on a level that informs their research and ideas in ways that lead to even greater discoveries and better inventions.
Help develop workable solutions to real problems, and maybe make life a little better for everyone.
So, yeah. Fruitful.