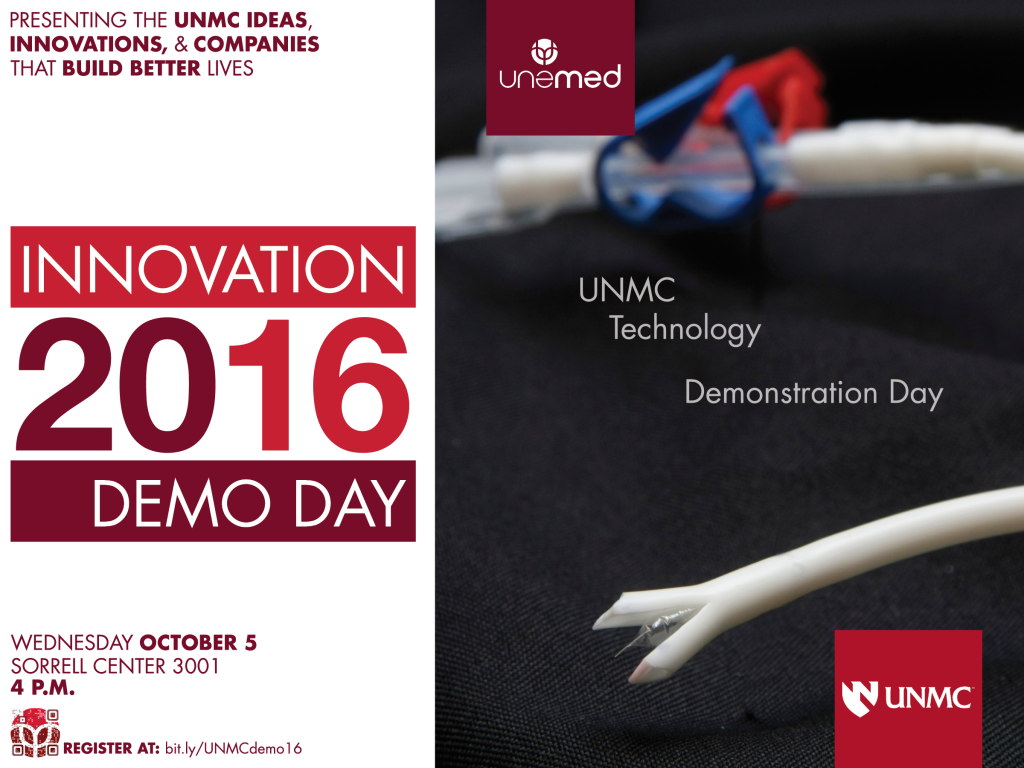 OMAHA, Neb. (Oct. 24, 2016)—UNeMed released today four video excerpts from its UNMC Technology Demonstration Day held earlier this month.
A part of its annual Innovation Week festivities, UNeMed's Demo Day featured six early-stage technologies invented or under development at UNMC and UNO.
Included in the published videos are presentations about 3D-printed prosthetics, a synthetic peptide that boosts the immune system, a "disruptive" hemodialysis catheter, and a platform technology that could make renal denervation a more practical treatment for high blood pressure. Two additional presentations were delivered during the event, Avert's concussion detection platform and Orion BioScience's curative approach to autoimmune disorders. But those two presentations cannot be made public at this time.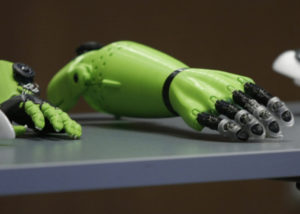 Jorge Zuniga, Ph.D., was among the speakers for the Cyborg Beast, a startup company he co-founded to help bring affordable prosthetics hands to children everywhere. Dr. Zuniga and his team at the University of Nebraska at Omaha's state-of-the-art biomechanics department are also developing elbow and shoulder prosthetics, and are now beginning work on similar devices for the leg.
Prommune CEO Sam Al-Murrani, Ph.D., presented an immune stimulating peptide invented by UNMC's Sam Sanderson, Ph.D. The peptide, EP67, has shown to be incredible flexible in stimulating the natural immune response and as an adjuvant or additive that boosts the power of known vaccines.
Chrysalis Medical CEO Ron Allen, Ph.D., presented a new hemodialysis catheter that is expected to hit the market within the next few months. Developed by Nebraska Medicine surgeon and UNMC associate professor Marius Florescu, M.D., the innovative catheter includes a small balloon that can be used to break up the natural accumulation of fibrous tissue that builds up over time. The new catheter eliminates the need for additional surgical procedures—and the associated risks—to replace a blocked catheter, which is the current standard of care.
Peter Pellegrino, Ph.D., rounds out the list of presentations with his talk about improving renal denervation. A recent clinical trial for a surgical procedure to treat high blood pressure gained notoriety when it failed to meet expectations. The treatment involves destroying misfiring nerves around the kidneys, but with no good way to measure the success of the procedure in real-time, it ultimately failed. Dr. Pellegrino, working with Irving Zucker,Ph.D., and his team, explains how UNMC developed a solution that can make the procedure more successful.
Demo Day was held Wednesday, Oct. 5, 2016, at the Michael F. Sorrell Center at UNMC. All available videos from the most recent event, can be viewed below. Videos from previous Demo Day events can be found on the UNeMed YouTube channel.