UNeMed planning to repeat popular regional event in 2019
OMAHA, Nebraska (December 11, 2018)—The final results are in, and the inaugural MidWest Drug Development Conference was an unqualified success, UNeMed announced today.
"No question about it," said Michael Dixon, CEO and President at UNeMed, the event's primary host. "Taking a swing at something major like this is more than a little nerve-wracking. Will anyone show up? Are we wasting our time? But this was a home run, no doubt—and not just for us."
Dixon added that he received positive feedback at every turn during the conference, which was held on October 1-2 at the Capital District Marriott in downtown Omaha. Even weeks later, at other national and regional events, Dixon reported feedback from other university and industry representatives.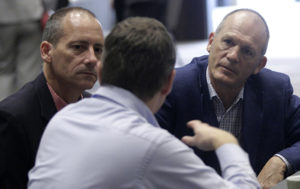 "People kept asking me how they could help next year," he said, "or how to be more involved. A lot of them were just really impressed with the event and got a ton of value out of it."
The conference pulled together a dozen Midwestern universities, which represented more than $4.6 billion in research expenditures and 1,787 new inventions in 2016, according to the most recent data available. Those 12 universities presented 41 new, drug-related technologies in short, 10-minutes packages. The audience was a collection of pharmaceutical executives, venture capital groups and other potential partners who could help further develop those new technologies.
The participating universities included Colorado State, Iowa, Iowa State, Kansas, Kansas State, Missouri, Nebraska, Ohio State, Oklahoma, Purdue, South Dakota, and Washington University in St. Louis.
All told, 113 people attended the two-day conference, including representatives from 24 companies and investment groups. About 146 one-on-one partnering meetings were scheduled, including 15 with UNMC and UNO representatives alone.
A post-event survey yielded glowing reviews.
One industry representative rated it a "10 out of 10" and another said it was a "[g]reat collection of universities, enabling access to a vast geography."
Another respondent commented: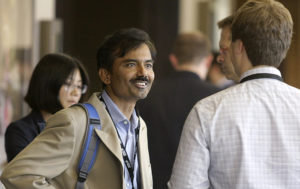 "This event was a great mix of opportunities to meet industry folks, but also to meet academic folks. I actually met an individual that may be interested in forming an academic collaboration. Also having VC firms, accelerators/incubators present allowed for a unique networking opportunity for academia, industry, and entrepreneurship."
For UNeMed, the conference yielded 27 new opportunities for UNMC technologies, including 33 new contacts and 13 new company and investment groups.
"An opportunity is anytime we have a conversation with an interested third-party that wants to learn more about a technology for potential investment," said Matt Boehm, UNeMed's Director of Licensing and principal planner of the event. "Those new opportunities are conversations that can lead to agreements and partnerships that help these early-stage innovations become new treatments one day."