OMAHA, Neb. (October 18, 2018)—A former heavyweight in the pharmaceutical industry will highlight UNeMed's events next week. Prabhavathi Fernandes, Ph.D., is expected to cover alternate careers in science with particular attention to the pharmaceutical industry.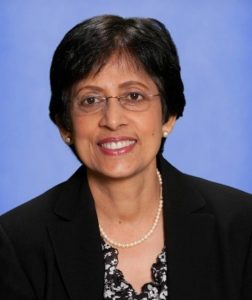 Her talk is scheduled for Friday, Oct. 26, in the Durham Research Center I auditorium, beginning at 2 p.m. The title of her one-hour presentation is "Moving into the pharmaceutical industry—Can the dark side be bright for you?"
The seminar is part of UNeMed's Innovation Week, a celebration of the innovative research and discoveries at the University of Nebraska Medical Center and the University of Nebraska at Omaha. UNeMed is the technology transfer and commercialization office for UNMC and UNO.
Dr. Fernandes has more than 35 years of experience in pharmaceutical discovery, development and management. She held executive leadership positions with the Bristol-Myers Squibb Pharmaceutical Research Institute, and at Drug Discovery, Abbott Laboratories as the leader of Anti-Infective Discovery.
At the Squibb Institute for Medical Research she conducted key research on the first monobactam antibiotic, aztreonam. At Abbott, she was directly involved in the development of clarithromycin, which achieved more than $1 billion in sales.
Before retiring in 2016, she led Cempra to a successful Initial Public Offering, and has helped raise more than $500 million for the company.
Dr. Fernandes has served on the U.S. Congressional Panel for Assessment of Impact of Antibiotic Resistant Bacteria. In July she was named Chairperson of the National Biodefense Science Board for the U.S. government.
Innovation Week begins Monday, Oct. 22, at 9 a.m. during the Kick-Off event, an open house where guests can grab a free T-shirt, coffee and other goodies in the DRC I atrium.
Innovation Week's major event is the Research Innovation Awards Banquet on Thursday, Oct. 25, beginning at 5 p.m. The awards honor all the UNMC and UNO faculty, students and staff who disclosed a new invention, received a U.S. patent or were inventors on a licensed technology during the previous fiscal year. This year, UNeMed will announce the 2018 Innovator of the Year, and name the Most Promising New Invention of 2018.
The Innovation Awards is an invitation-only event.
Finally, UNeMed is also co-sponsoring the Invent-A-Thon, a judged competition among teams of local high school students. Teams will be tasked in a week-long event to solve an actual healthcare problem using 3D printing and design. The winning team will receive an award and prize.
Teams will pitch their ideas and 3D-printed prototypes in final presentations on Friday, Oct. 26 at 5 p.m. in room 1005 of the Michael F. Sorrell Center at UNMC. That event is also free and open to all, and will be followed by a short reception.