by Tyler Mueller, UNeMed
OMAHA, Neb. (Jan. 30, 2015)—UNeMed president and CEO Michael Dixon, Ph.D., told an audience of 111 grad students and postdocs they should be open and curious about alternative opportunities and subjects during UNeMed's "Free Lunch*" panel discussion Thursday.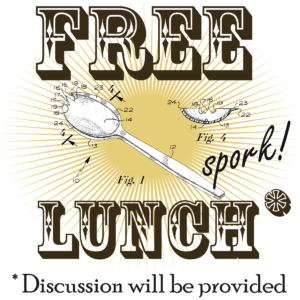 "You don't have to be a master of one thing," he said. "You can be involved in multiple things."
The panel discussed how their career paths began, and what led them to working at UNeMed, the technology transfer office for UNMC. The panel also gave advice on how others might follow a similar path. Along with Dr. Dixon, the panel included UNeMed vice president and director of marketing and licensing, Steven Schreiner, Ph.D., and UNeMed licensing associate, Agnes Lenagh, Ph.D.
The UNMC Postdoc Association co-sponsored the event.
All three speakers said they originally had no intention of working in the tech transfer market. Dr. Lenagh said she thought about becoming a teacher or joining the Peace Corps while working in the labs. Dr. Lenagh said the monotony of lab work started to wear her down, working with the same data every day. Dr. Dixon agreed, saying "it couldn't get more basic than what I did." Then Dr. Lenagh heard about a UNeMed internship.
Working in tech transfer gives Dr. Lenagh the opportunity to learn about new discoveries and inventions each day.
"With tech transfer," she said, "you get to see what other people are doing and are a part of the process."
Dr. Schreiner expanded on the process, saying much of the time in the beginning is spent looking for similar inventions or technologies. If a similar product exists, UNeMed works with the researcher to find a way to improve or differentiate it from the existing technology. If there is an opportunity to make the technology a reality, UNeMed will look for it.
"We don't pick winners and losers," he said. "The market does."
Even when a product might not be popular with companies, Dr. Schreiner emphasized the discussion doesn't end there. UNeMed looks for other opportunities with the company to try to find something else to work on together.
When asked about internship advice, Dr. Lenagh stressed a need for students to take initiative.
"You gotta' be outgoing and you can't be shy," she said. "You have to love what you do."