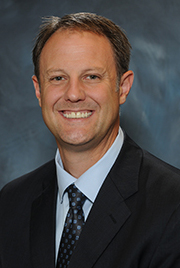 LINCOLN, Neb. (Oct. 16, 2014)—UNeMed president and CEO Michael Dixon will be interviewed by Greg Sharpe, the "Voice of the Huskers," which will broadcast during halftime of Nebraska's football match-up with Northwestern on Saturday, Oct. 18.
The interview is a part of a regular series of halftime interviews that will include University of Nebraska interim president Jim Linder. In the series, Linder and Sharpe meet with various University officials to discuss the University's economic impact on Nebraska. This week, Sharpe and Dixon will discuss UNMC research and the University's technology transfer efforts.
Kick-off for the Cornhuskers' road game at Northwestern University is listed at 6:30 p.m. The Husker Sports Network will carry the game, and a list of broadcast affiliates can be found here. In Omaha, KFAB (1110 AM) will carry the game and halftime interview. It can also be heard through the iHeartRadio Network's smartphone application and SiriusXM.
Dixon and Sharpe are also expected to discuss some of the cutting edge research at the University of Nebraska Medical Center, and the value those innovations bring not just to the local economy but to the general well-being of everyone on the planet.
Dixon is also expected to talk about Omaha's growing startup and entrepreneur community, and how the University should fit into that part of the ecosystem.