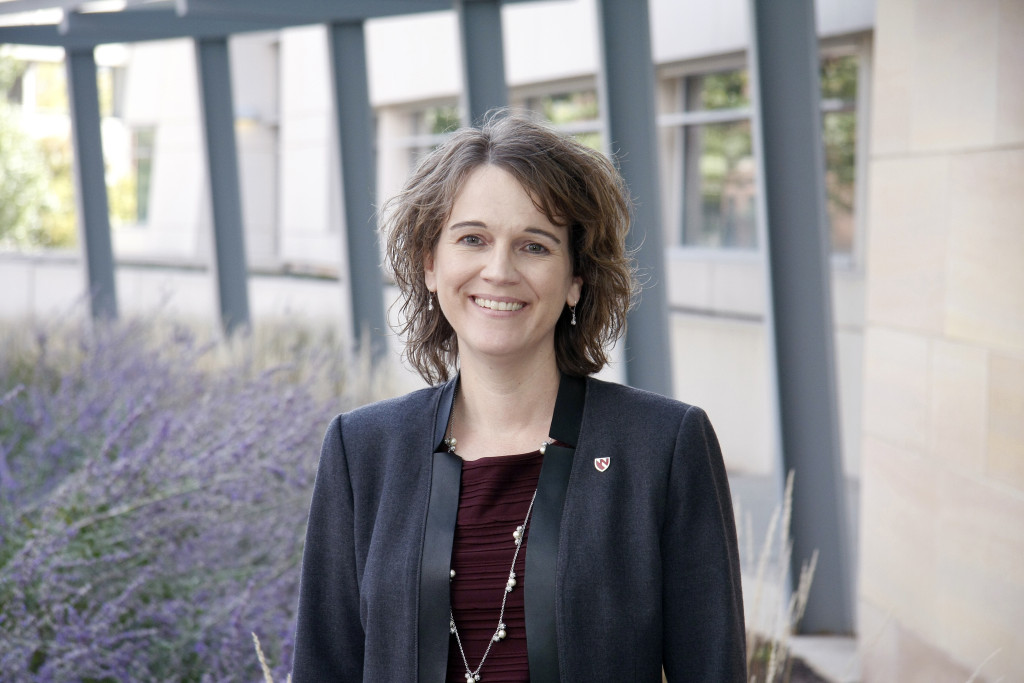 by Tyler Mueller, UNeMed
OMAHA, Neb. (October 23, 2015)—Tammy Kielian, Ph.D., was named the "2015 Innovator of the Year" during UNeMed's annual Research Innovation Awards Ceremony and Reception yesterday, before an estimated crowd of 208.
Hosted by UNMC's technology transfer office, the awards ceremony is the culmination of Innovation and Research Week, a series of events to showcase and celebrate UNMC discoveries.
During the Innovation Awards, UNeMed honored all UNMC personnel who submitted a new invention, received a U. S. patent or licensed a technology. UNeMed also named a portfolio of inventions by Michael Wadman, M.D., and Thang Nguyen, M.S.N., A.P.R.N., as the "Most Promising New Invention of 2015."
Dr. Kielian—honored in 2012 as the "Emerging Inventor"—is the first two-time winner of a major UNeMed award in the nine-year history of the program. Her work on a potential cure for Juvenile Batten Disease and treatments for S. aureus biofilms made her an easy choice for the top award in 2015, said UNeMed president Michael Dixon.
"Dr. Kielian is exactly the kind of scientist we love to celebrate during Innovation Week," Dixon said. "Every day she and her team does what it takes to move the science forward, and help us push her research into the real world where it has a chance to not just save lives, but save families."
Dr. Kielian and her team are approaching clinical trials on two approaches to fighting the as yet incurable Juvenile Batten Disease, a rare and always fatal childhood neurodegenerative disease. One approach treats the disease using an existing class of drugs, but the other approach, a gene therapy treatment, has potential as a cure.
In addition to her work against Juvenile Batten Disease, Dr. Kielian—the Choudari Kommineni, D.V.M., Ph.D., Professor of Pathology in UNMC's Department of Pathology and Microbiology—developed a new strategy for targeting the immune system to help prevent and treat Staphylococcus aureus biofilm infections.
Dr. Wadman and Nguyen, who both work in UNMC's Department of Emergency Medicine were awarded the "Most Promising New Invention of 2015" for their innovative concepts for better wound irrigation and oral airway management.
Together, the tandem developed an irrigation system that can adjust and maintain consistent pressure with enough solution to clean almost any wound. They are also working on a set of inventions that could help emergency care providers maintain keep clear a patient's airway.
The Awards Ceremony concluded with the free iPad drawing, which was awarded to Ph.D. student Shrabasti Roychoudury.
Other events featured during 2015 Innovation and Research Week included a full slate of seminars hosted by the Office of the Vice Chancellor for Research, which were aimed at helping research understand and better use all the resources at their disposal.
The week also saw for the first time a closer look at the new Interprofessional Experiential Center for Enduring Learning or iEXCEL. The hands-on exposition gave guests a glimpse at some of the world's most advanced medical training and simulation technologies that UNMC will use to train future clinicians.
Also new this year was Mission SimPossible, simulation contest between two groups of medical students that tested their abilities to diagnose, treat and mange a complicated medical situation. The Emergency Medicine Interest group won the top prize and the Family Medicine Interest Group was the runner-up.
UNeMed also hosted two events aimed at graduate students with a panel discussion about alternate careers in science away from the bench and more humorous look at academic science through the lens of Adam Ruben, author of "Surviving Your Stupid, Stupid Decision to Go to Grad School."
Finally, UNMC Technology Demonstration Day entered its third year with six presentations about current UNMC technologies or collaborations that are currently approaching the marketplace.