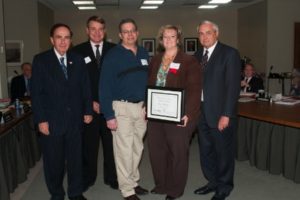 OMAHA, Neb. (May 20, 2011)—On behalf of the Board of Regents, UNeMed Business Manager Valerie Gunderson was presented a KUDOS award by Chancellor Harold Mauer.
Her supervisor and nominator, James Linder, M.D., executive director of the UNeMed Corporation and professor of pathology and microbiology, said, "As the 'administrator' of UNeMed (the technology transfer office for UNMC), Val has helped to grow the unit during periods of recruiting and staff realignment. She has helped communicate the mission of UNeMed to our internal customers (faculty and staff) and to our external partners (UNL, UNO, Creighton University, the Omaha Chamber of Commerce and private business). These interactions are carried out with the highest quality work and represent UNMC in an outstanding manner." Dr. Linder also said, "Val is known to virtually all administrative personnel on campus because of the years of service she has provided at UNMC. From implementing the Electronic Residency Application Service for all medical students to creating the awareness among faculty of grant transfer opportunities, Val is part of the administrative bedrock that allows UNMC to accomplish its mission."
Another nominator, Michael Dixon, Ph.D., director of UNeMed, said, "Val has the unique ability to bridge the scientists, lawyers, business professionals, paralegals, marketing specialists and administrative associates in our group to ensure that the 'job gets done and on time.' She also always knows the right person or department to contact for anything."
Today, Valerie Gunderson has brought her husband, Scott Gunderson and her direct supervisor and nominator, Dr. Jim Linder.