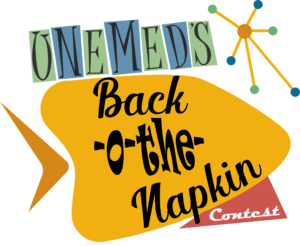 OMAHA, Nebraska (April 26, 2023)—UNeMed is calling for entries into its second Back-o-the-Napkin contest.
The deadline for entries is July 1, and the contest is open to all UNMC faculty, students and staff who have ideas for innovative medical devices.
The top three innovations will win additional support with a professionally engineered and designed prototype. The prototype stage is a common hazard for inventors because prototypes can be costly and time consuming to create. Yet they are essential for attracting additional support and financing for further development.
Contest co-sponsors — UNeTech Institute, Great Plains IDeA-CTR and the University of Nebraska at Omaha Machining and Prototyping Core Facility in the Biomechanics Department — will provide the 3D modeling and prototyping services.
"We've successfully completed dozens of prototypes for UNMC inventors," said Brian Knarr, PhD, an associate professor in biomechanics and core facility firector. "We really enjoy working with them because each project is an interesting and unique challenge that can have a profound impact on people's health everywhere."
Digital entry forms have been provided to all the clinical departments across UNMC, but entry forms may also be downloaded here. Physical versions of the entry form are available upon request. Designed to resemble actual napkins, entry forms ask that inventors draw and describe their ideas. All novel innovations then will be rendered into a three-dimensional model.
The winning entries from the inaugural contest are all in various stages of further development.
The "Wearable Pinch Ligation Device," submitted by Quan Ly, MD, and Meghana Kashyap, MD, from the UNMC College of Medicine's Surgery Division is currently in the CAD modeling phase at UNO biomechanics.
The "Single Laser Measurement Device for Jump Testing," submitted by physical therapists in the UNMC College of Allied Health — Michael Rosenthal, DSc, Elizabeth Wellsandt, DPT, PhD, and Michael Wellsandt, DPT — is completing the prototyping phase and preparing for validation studies.
"Working with Dr. Knarr's team at UNO has been very rewarding," Dr. Rosenthal said. "It's been incredible taking something that began as a rather crude drawing on the Back-o-the-Napkin entry form and bringing it to life as something that can benefit a wide range of people and advance healthcare."
The "Beam Helmet," submitted by Elizabeth Beam, PhD, an assistant professor in the UNMC College of Nursing, is patent-pending and preparing for validation studies. Dr. Beam also won the most recent "CTR Superstar" grant competition, which will provide funding for the upcoming validation studies.
"I was able make a simple idea into a tangible prototype for collaborative discussions with NIOSH and a leading powered air purifying respirator manufacturer," Dr. Beam said. "I don't know if any of this happens without this contest. I had the idea for a while, but I just wasn't sure how to move it forward. As it turns outs, jotting down a few ideas on a napkin opened many doors for me."