As part of Innovation Week (Sept. 28 – Oct. 2), UNeMed Corporation will spotlight the research of several UNMC inventors. Here researchers discuss their passion for innovation and share their thoughts on the process of invention.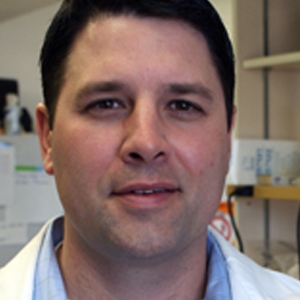 OMAHA, Neb. (Sept. 3, 2009)—Paul Dunman, Ph.D., and his staph team have identified a novel enzyme that may lead to new ways to treat the deadly MRSA bacteria.
Dr. Dunman, assistant professor in the department of pathology and microbiology, found that this enzyme starves the bacteria to death. The discovery paves the way for vaccine development.
Methicillin Resistant Staphylococcus Aureus (MRSA) is one of the most resistant strains of staphylococcus aureus (S.aureus), a common bacteria that lives on skin and in noses of healthy individuals. It also is the leading cause of most common skin infections in the United States.
MRSA has become more prominent in recent years and is responsible for more deaths in the United States each year than HIV/AIDS. In addition, staph is the leading cause of infectious heart disease, the No. 1 cause of nosocomial (hospital-acquired) infections and one of four leading causes of food-borne illnesses.
Dr. Dunman has great insight into what it takes to develop a compound that will have a positive impact on public health, said Steve Schreiner, Ph.D., senior licensing specialist for UNeMed.
"His expertise adds a great deal of credibility to the antimicrobial work underway at UNMC," Dr. Schreiner said.
The staph team has collaborated on the technology with researchers from Vanderbilt University in Nashville, Tenn.
"The work is a phenomenal merger of several cutting-edge technologies, which collectively allow an unprecedented view of the host-pathogen interface," Dr. Dunman said.
Earlier this year, Dr. Dunman was the recipient of the Gilmore Award for his research into ways to combat MRSA. The annual award recognizes outstanding research contributions by young UNMC faculty members.
To read more about Dr. Dunman's research go to www.dunmanlab.com.
Since his 2004 arrival at UNMC, Dr. Dunman has secured several grants, including an RO1 award from the National Institutes of Health, published nearly 25 articles and designed his staph-killing antibiotic.
On Oct. 1, Dr. Dunman will join his fellow researchers in the Durham Research Center Auditorium for UNeMed's 2009 Research Innovation Awards. The 4 p.m. ceremony will recognize inventors for their new inventions, patents and licensed technologies.
When asked how he chose this field, Dr. Dunman describes a time in graduate school when an antibiotic he was working on cured a patient who otherwise would have died.
"It was then I decided antibiotic drug development was what trips my trigger," he said. "Today we are well on our way to developing a novel class of antibiotics that may be used to treat other related bacteria pathogens."
Dr. Dunman credits his success to having a good mentor who listens to his ideas, provides suggestions and encourages him to test those ideas.
Dr. Dunman's ultimate research goal is the advancement of patient care.
"I won't rest until at least one of my inventions makes it to market and is used in patient care," he said.
He works closely with the UNeMed team to achieve this goal.
"The folks at UNeMed are among the best that I've ever worked with," Dr. Dunman said. "They are here, in part, to protect your ideas and promote them to others. I anticipate that they'll be a major component of our future."