Amarnath Natarajan, Ph.D., stood up and walked to a white board covered in red, black and green, hand-drawn chemistry diagrams.  "If you really are interested, I can tell you about this all day," the associate professor in the Eppley Institute said.
He cleared a section of the board and began to draw lines and ovals that symbolize proteins, cancer cells and a compound he and his team have designed that has the potential to make cancer cells sensitive to treatment by blocking the inter cellular communication mechanisms.  The longer he talked, the faster he drew. He explained how his compound works and why it shows promise as a way to treat pancreatic cancer, one of nature's most efficient human killers, as well as other forms of cancer.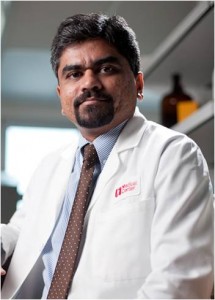 His excitement took him back to his younger days in India when his science class dissolved coins in acid to learn about metals.  "I was amazed to learn about the elements contained in coins," Dr. Natarajan said.  That one experiment ignited a curiosity that led him to organic chemistry and, eventually, create his own compounds.
His first compound was conceived around Thanksgiving of 1996 in his laboratory at the University of Vermont, where he hid from the cold. He had recently moved from his native India and never experienced temperatures below 75 degrees. Inside the warm laboratory, while others ate turkey and watched football, he worked on his novel compound that would serve as part of a new drug.
Since that day he has discovered several other compounds, including the one to treat pancreatic cancer, yet the feeling of discovery never gets old, he said.  "I still get excited when I or someone on my team discovers a new compound," Dr. Natarajan said. "I truly love discovering something new."
Dr. Natarajan isn't the only one excited by his work.  He came to UNMC at the request of Hamid Band, M.D., Ph.D., professor and associate director of translational research in the Eppley Institute.  The two met when Dr. Band – then a faculty member at Northwestern University — visited the University of Texas Medical Branch in Galveston, where Dr. Natarajan worked at the time.  Their discussion soon turned to collaboration on Dr. Band's work in breast cancer.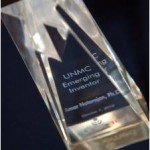 When Dr. Band came to Omaha a couple years ago, he suggested Dr. Natarajan consider doing the same.  After a visit to the medical center, Dr. Natarajan decided UNMC offered a lot in terms of opportunity and potential, so he moved his team from Texas to Omaha.  "As a biologist, it's been very exciting to have a chemist on hand to add his input and expertise into our work," Dr. Band said. "He's a tremendous asset and stands to significantly aid us in our quest to battle cancer and help patients."
One of Dr. Natarajan's biggest assets is his willingness to expand his knowledge and expertise to other areas of medical science, Dr. Band said.  "He actually taught himself biology," Dr. Band said, with a tone of admiration n his voice.
With his new expertise, Dr. Natarajan has bridged the two traditionally separate fields of chemistry and biology in a manner that could benefit many.  One of just a few medicinal chemists on the UNMC campus, Dr. Natarajan has the expertise and skills to make UNMC a player in the world of cancer drug discovery, said Michael Dixon, Ph.D., president and CEO of UNeMed, UNMC's technology and transfer arm. UNeMed recently honored Dr. Natarajan with its Emerging Inventor Award for his compound.
The creation of novel compounds has led to some incredibly profitable developments at several universities, Dr. Dixon said.  He points to Florida State University, where a team of scientists led by Robert Holton, Ph.D., created a synthetic version of the cancer drug, Taxol –  a discovery that led the school to receive $350 million in royalties.  "The compounds Dr. Natarajan is developing have never been created before and could lead to powerful new treatments for cancer," Dr. Dixon said. "This is good news all around as it benefits patients and could significantly affect UNMC economically."
The potential for financial windfall is intriguing for Dr. Natarajan, but it doesn't drive him. No, the fuel for this fire has been the same the whole time.  "My interest goes beyond chemistry, beyond biology, beyond cancer," Dr. Natarajan said. "I'm interested in science, period. That's what excites me."  It always has.
He's here to help
If you're a researcher and you need a compound made, Amarnath Natarajan, Ph.D., wants you to call him.   "We are always open to collaborations and exploring ways to help others in their research," Dr. Natarajan said.  "We're open to pretty much anybody."  Dr. Natarajan and his team now work with Eppley Institute's Hamid Band, M.D., Ph.D., and Tony Hollingsworth, Ph.D., professor and director of pancreatic cancer research.  Dr. Natarajan has created compounds that have helped with Dr. Band's breast cancer research and have shown promise in Dr. Hollingsworth study of how to better treat pancreatic cancer.
He's also in conversation with several other campus researchers about making compounds to help advance their research.  Dr. Natarajan is interested in helping any researcher, regardless of field of study, who has a need for a new compound.  "Our skill set is that we can make small molecules, which later may become the basis of drugs and treatments," Dr. Natarajan said.
"If you need small molecules made, that's a job for us."