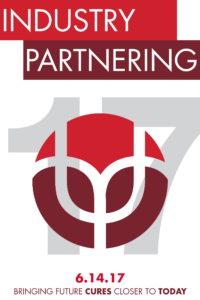 In an effort to open more doors of productive collaboration and commercialization, UNeMed hosted its second Industry Partnering Day on June 14, 2017.
The event featured presentations about some of the University of Nebraska's most innovative discoveries and inventions aimed specifically at industrial leaders—the kind of leaders who can help support, guide and develop that promising research toward a product on the marketplace where they become tomorrow's treatments and cures.
The all-day event was invitation-only, and focused on UNMC's and UNO's most promising medical device breakthroughs.
Tentative Itinerary
UNMC Industry Partnering Day
June 14, 2017
Michael F. Sorrell Center, UNMC
Omaha, Nebraska
9:00 a.m. — Breakfast & Networking
9:30 a.m. — Opening Remarks
UNMC medical device technologies
9:40 a.m. — Left Radial Artery Specialty Extension Sheath for Percutaneous Coronary Intervention:  Greg Gordon, M.D. (UNMC, Radux Devices)
10:00 a.m. — Sympathetic vasomotion monitoring for renal denervation: Peter Pellegrino, Ph.D. (UNMC)
10:20 a.m. — Intravascular cutting system for aortic dissection: Jason MacTaggart, M.D. (UNMC)
10:40 a.m. — Miniaturized surgical robots:  Shane Ferritor, Ph.D. (UNL, Virtual Incision Corp.)
11:00 a.m. — Automated REBOA device: Alexey Kamenskiy, Ph.D. (UNMC)
11:20 a.m. — Wound Irrigation System: Thang Nguyen, A.P.R.N. (UNMC
11:40 a.m. — Lunch & Networking
1:00 p.m. — Fistula maturation device: Marius Florescu, M.D. (UNMC)
1:20 p.m. — Detection of disease worsening in COPD: Jennifer Yentes, Ph.D. (UNO)
1:40 p.m. — Cardiac access vascular graft: Jeffrey Delaney, M.D. (UNMC)
2:00 p.m. — Portable laparoscope: Chandrakanth Are, M.D. (UNMC)
2:20 p.m. — Networking
2017 Partnering Summit Program
2017 Industry Partnering Summit by UNeMed Corporation on Scribd
Previous Partnering Summits