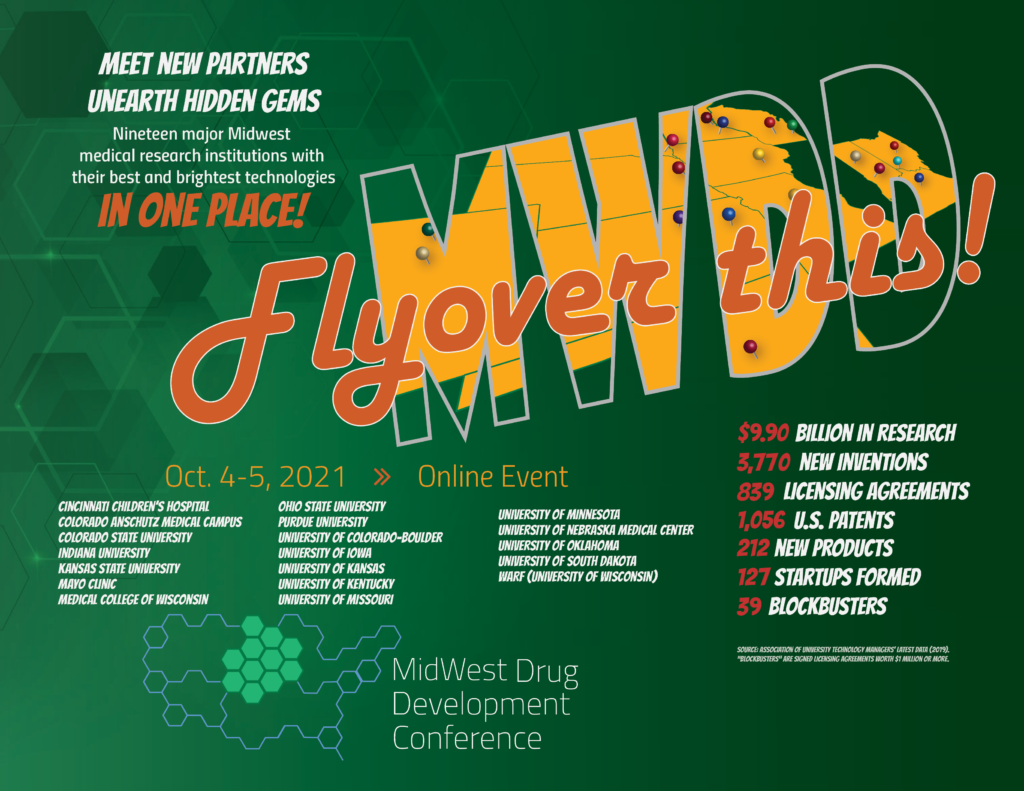 OMAHA, Nebraska (Aug. 17, 2021)—Due to rising concerns with the COVID-19 pandemic, the 2021 MidWest Drug Development Conference will move to a 100-percent virtual event.
The two-day conference will still be on Monday, Oct. 4 and Tuesday, Oct. 5, but all events will be online. Register here: https://www.mwdrugdevelopment.com/tickets/.
Cost to attend the event is $500, but a discount code is available for representatives at pharmaceutical companies and investment groups. To request a discount code, contact event organizers at https://www.mwdrugdevelopment.com/#contact.
Up to 19 major Midwestern institutions are planning to attend the virtual event, which will feature about 50 short presentations of their latest and most promising therapeutic innovations. Each participating institution will present some of their most promising therapeutic candidates in 10-minute presentations, followed by a brief Q&A session.
The 19 presenting institutions are Cincinnati Children's Hospital, Colorado Anschutz Medical Campus, Colorado State University, Indiana University, Kansas State University, Mayo Clinic, Medical College of Wisconsin, Ohio State University, Purdue University, University of Colorado-Boulder, University of Iowa, University of Kansas, University of Kentucky, University of Minnesota, University of Missouri, University of Nebraska Medical Center, University of Oklahoma, University of South Dakota and Wisconsin Alumni Research Foundation.
Additional guests will predominantly include key decision makers at pharmaceutical companies that are looking to expand their portfolio with new therapeutics. Also expected to attend are investment groups who are interested in building or investing in startups companies.
The ability for academic technology transfer professionals, university researchers, and industry representatives to meet and talk in-depth about these innovations is a key component of the conference. Because of that importance, the virtual conference will include one-on-one partnering opportunities.
More information, including the full schedule of planned presentations, will be announced in the coming weeks.