by Tyler Mueller, UNeMed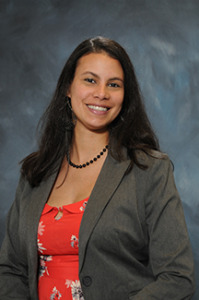 OMAHA, Nebraska (June 29, 2015)—Longtime postdoc and licensing associate Agnes Lenagh, Ph.D., was promoted to a permanent position at UNeMed as a licensing specialist, UNeMed announced today.
As a licensing specialist, she will continue helping researchers, students and faculty at the University of Nebraska Medical Center evaluate and explore the commercial prospects of their intellectual properties. The new position is more specified to Dr. Lenagh's skillset, representing three years of work and experience in the tech transfer field.
"I've learned the ins and outs of invention evaluation, intellectual property positions, marketing strategies, and contract negotiations," Dr. Lenagh said. "As a licensing specialist, my responsibilities will have a broader scope."
Born in Juana Diaz, Puerto Rico, Dr. Lenagh came to the UNMC in 2006 as a doctoral candidate Ph.D. in Pharmacology and Experimental Neuroscience. Dr. Lenagh started at UNeMed as an intern in 2012 before signing on as a postdoctoral licensing associate six months later.
"It was an easy decision to promote Dr. Lenagh to this position," said Michael Dixon, president and CEO of UNeMed. "Her experience and knowledge make her a great asset at UNeMed."
Dr. Lenagh said she is excited about the new position and is looking forward to continuing her efforts on projects that could one day land on the market.
"It's been a humbling experience forming part of a team that values my opinions and allows me to use additional skills that were not necessarily in the initial job description," said Dr. Lenagh.
Dr. Lenagh recently created and instructed the inaugural UNeMed Boot Camp, where participants were given a crash course on the technology transfer industry. Dr. Lenagh is also the webmaster of the UNeMed website, responsible for its design and maintenance.
———
UNeMed Corporation is the technology transfer and commercialization office (TTO) for the University of Nebraska Medical Center, serving all UNMC researchers, faculty and staff who develop new biomedical technology and inventions, and strives to help bring those innovations to the marketplace for a happier, healthier and better world.