OMAHA, Neb. (Nov. 11, 2011)—Hundreds gathered in Omaha last week to recognize local inventors and researchers in science fields as part of the UNeMed Innovation Week. Research, newly developed equipment and innovations in technology were among the top award winners at the week-long event.
The event was the culmination of an entire year's worth of research and gave awards, licensing and patents to recognized award recipients. The event was hosted and put on by UNeMed, a corporation part of the University of Nebraska Medical Center. Since UNeMed was founded in 1991, it has worked with researchers to bring innovative ideas from the laboratory to the marketplace and helps provide licenses, patents and grants to these researchers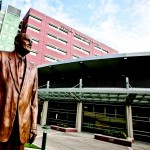 "Innovation Week culminates in the awards ceremony," said Steve Schreiner, Licensing and Marketing director of UNeMed. "We invite everyone we can onto campus and we invite everyone who submitted an idea to us. We acknowledge each of those. There are 70 to 100 people on that list. The awards ceremony highlights who on campus has submitted an idea to UNeMed."
Early in the week, speakers and scheduled events focused on UNeMed's work. What started as a small event a few years ago now sees nearly 200 guests and it continues to grow. Schreiner said Innovation Week is entrepreneurial itself because it started small and on its own and grew to the size it is today.
The Innovation Week program works as a way to help patent the ideas of innovative researchers and developers in the science field. People who have ideas go to UNeMed and pitch these ideas. The best ones are selected for grants, licensing and patents and are recognized at the Innovation Week event.
The awards are broken into three categories. The first category is devoted to special awards to the ideas that are most promising. Schreiner said these awards are the ones with the most potential and would have the biggest impact, not necessarily produce the most money. This award is given each year and the winners receive $10,000 in unrestricted grants to use for research and funds.
The second category is called the emerging inventor award and provides $25,000 in unrestricted research grants to someone on the campus that's working in an innovative area that will bring commercial value to the office. This was only the second year this award was given. This year's winner of the emerging inventor award was Amar Natarajan, Ph.D., an associate professor at the Eppley Institute. Natajaran's research focuses on anti-cancer compounds.
The emerging inventor award isn't provided every year and in years it isn't handed out, a lifetime achievement award is given. So far, two lifetime achievement awards have been given.
Another award was the most promising new invention award. Dr. Stephen Bonasera, an assistant professor at the University of Nebraska Medical Center College of Medicine, was awarded the most promising new invention award. In addition to these honors, UNeMed releases patents to seven researchers and licensed technologies for ten others.
Up until recently those involved with Innovation Week have been solely individuals working in the University of Nebraska system. However, Schreiner said that the field has expanded to include inventors from outside the university. Schreiner said by opening up Innovation Week to others, more ideas can be given the chance to receive grants, patents and licensing that normally would not.
"We've begun taking on external (outside the University of Nebraska system) customers and we try to work with them on a pay basis," Schreiner said. "Now we can actually work with them and we can actually treat them like our own inventers [and they benefit]."