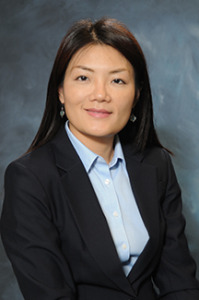 OMAHA, Neb. (May 11, 2015)—UNeMed technology development specialist, Qian Zhang, Ph.D., recently passed the United States Patent and Trademark Office's patent bar exam and is now a registered patent agent.
"I'm very excited to be registered as a patent agent," said Dr. Zhang, who is now the fifth full-time staffer to have passed the patent bar. "It has been one of my goals."
As a patent agent Dr. Zhang can now draft, file and prosecute patent applications for UNeMed, the technology transfer and commercialization office of the University of Nebraska Medical Center.
Born in Linyi, China—a city of 10 million near the northern end of the Yellow Sea coast—Dr. Zhang attended graduate school at the UNMC where she earned a doctorate in cancer biology in 2011. She also holds an MBA from the University of Nebraska at Omaha.
Dr. Zhang first joined UNeMed as a licensing associate in 2011, where she helped evaluate and bring UNMC innovations to the market. Dr. Zhang also plays a role for UNeMed in developing international markets, particularly in China.