by Tyler Mueller, UNeMed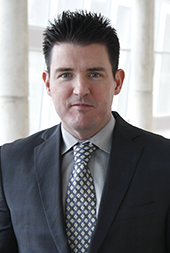 OMAHA, Neb. (Jan. 23, 2015) — UNeMed announced today the addition of lawyer Jeff Andersen, J.D., as a contract specialist.
Andersen will assist researchers at University of Nebraska Medical Center by protecting their work and findings. When information is shared between labs or other entities, Andersen creates protective agreements, such as confidentiality and material transfer agreements. These agreements are common tools that protect researchers, inventors and their discoveries as they work to build collaborations that can help further their work.
"We are incredibly fortunate to recruit someone with his expertise and knowledge to the team," UNeMed president and CEO Michael Dixon said. "He is an outstanding addition to UNeMed. We're looking forward to the insight that he will bring."
Andersen will perform the duties and responsibilities previously held by Jack Mayfield, who passed away unexpectedly in October.
Andersen graduated from Creighton University in 1995 with a bachelor's degree in chemistry. He then obtained his J.D. in 2000, also at Creighton. He obtained his registration to practice before the United States Patent and Trademark Office in 2003.
Andersen has spent much of his career in intellectual property law. He previously worked for Baird Holm, LLP, where he was involved with starting their patent practice section.
Before that, Andersen specialized in patent prosecution at Advent IP, LLP, and Suiter Swantz, PC, LLO.
Andersen said he knew several UNeMed staffers before joining the team. At various networking events, he met Dixon; Joe Runge, Business Development Manager; and Jason Nickla, Director of Intellectual Property.
"They have always spoken very highly of UNeMed and made it sound like a great place to work for," Andersen said. "I wanted to learn a different side of the IP business. Working at UNeMed gives me that opportunity. I'm excited to be a part of it."