by Charles Litton, UNeMed | Jan. 25, 2017
As we close the books on another year of tech transfer—our 25th, to be precise—we wanted to take a moment to look back on the year that was. Here's a review of some of the most important stories, developments, most popular posts and other highlights from UNeMed in 2016:
1. Innovation Week
Innovation Week has always been a consistent driver of traffic to the website. But each year seems to be bigger than the last, and 2016 was no exception. Our annual celebration of UNMC's innovative research is anchored by the Innovation Awards Ceremony and Reception, which highlighted the impressive work coming from Irving Zucker's labs (see below). But the 2016 festivities were special in another way: The series of events also highlighted the year as UNeMed's 25th anniversary.
2. Industry Partnering Day
For something we downplayed as a low-key event, it sure hit a nerve. Our first Industry Partnering Day was a small, but focused group of researchers, investors and industry executives. The obvious goal was building stronger relationships between those groups, but we also hoped the event might help lift a few UNMC innovations to further development. The invitation-only event was a clear success, and that's why we plan to do it again this year. This time around, however, we will focus on medical devices. If you think you should be invited, drop us a line.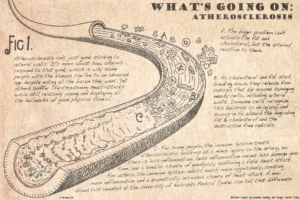 3. Vein and arteries are more than mere pipes
There's a lot more to veins and arteries than you might think. This popular blog post took a closer look at just how complex they are, and debunked the idea that they resemble the plumbing in your house. The post helped explain why things like atherosclerosis and kidney dialysis have an added layer of complexity due to the dynamic nature of veins and arteries.
4. 2016 Demo Day
UNeMed's Technology Demonstration Day entered its fourth year in October 2016, highlighting a handful of the University of Nebraska Medical Center's top innovations. The event also featured two Nebraska biotech startups that were selected from a field of more than 200 applicants for a national demo day in Washington D.C.: Calidum and Orion BioScience.
5. Zucker is Innovator of the Year
Irving Zucker, Ph.D., took home UNeMed's top prize from the annual Innovation Awards Ceremony. His work with treating chronic heart failure and high blood pressure—via reducing excessive sympathetic nerve activity—landed the Innovator of the Year Award. The work also secured the interest of an industrial partner who is collaborating with Zucker's lab to push the innovation toward FDA-approved treatments.
6. Anyone can be an inventor
That only scientists in lab coats can be an inventor is a common misconception. That perception, however does not match reality, and we sought to dispel that myth with this popular blog post back in May. The truth is, anyone can be an inventor. All you need is an idea, and some way to convey it.
7. If you want to be an entrepreneur…get a job!
A portion of our efforts are dedicated to helping build startups, and working with biotech entrepreneurs. Over the years, 55 startup companies have emerged from UNMC innovations, and we've learned a thing or two from all those successes (and failures too). Our Business Development Manager, Joe Runge, explores the value of "on-the-job learning" for budding entrepreneurs.
8. Motometrix (Avert) joins StraightShot
Motometrix, since re-branded as Avert, landed a coveted spot in Omaha's technology accelerator program, StraightShot. Avert's novel concussion detection platform is based on technology developed at the University of Nebraska at Omaha's world-class Biomechanics Research Building. The device resembles a bathroom scale turbo-charged with powerful software and highly sensitive pressure sensors that can determine when a person has suffered a concussion during sporting events. Avert is currently working on refining its prototype in preparation for a wider product roll-out.
9. Calidum will treat, diagnose cancers
In April, UNeMed announced a licensing deal that helped create a new startup based on a UNMC technology that could be used to both diagnose and treat various cancers. Calidum's "theranostic" compound is tagged with a harmless, radioactive isotope, and has a remarkable ability to target some treatment-resistant cancers, including prostate, ovarian and triple-negative breast cancer. The FDA has approved a clinical trial for prostate cancer.
10. New approach needed for Alzheimer's
Despite its late arrival—and competition with the holiday season and a rather disruptive hack that laid the website low for several weeks—our most recent blog still managed to capture a lot of attention. Written by our newest addition to the staff, licensing intern Tyler Scherr, Ph.D., the blog examines current and future treatment options for Alzheimer's disease. The overall outlook is grim for the present, but new approaches in the future could change that.
Honorable Mention:
The annual website review often rates a fair amount of traffic, including last year's look at 2015, which revisited important stories about developing UNMC innovations. Among the top stories was a note about Virtual Incision, a Nebraska startup creating novel surgical robots. While much of the news in 2015 focused on Virtual Incision's fund-raising success, the news in 2016 shifted to the company's first-in-human tests and its addition to the University of Nebraska's Innovation Campus.
Classics
Several posts from previous years remain popular and relevant, particularly those that focus on day-to-day operations and legal issues associated with intellectual property.
1. The importance of technology transfer
2. How to determine who is an inventor on a patent: Unraveling inventorship vs. authorship
3. What you need to know about royalty distribution
4. Technology transfer 101: Defining research commercialization