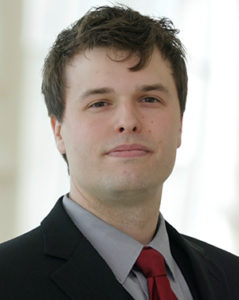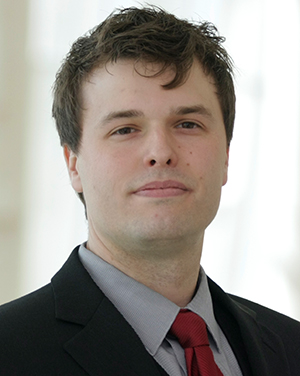 OMAHA, Neb. (May 15, 2018)—Tyler Scherr, Ph.D., has been promoted from intern to a full-time licensing associate position with UNeMed, the technology transfer and commercialization office at the University of Nebraska Medical Center and the University of Nebraska at Omaha.
"We are incredibly fortunate to add the kind of rare skills and experience that Dr. Scherr brings to the team," UNeMed president and CEO Michael Dixon said. "In addition to having a highly successful graduate research career, Dr. Scherr is an entrepreneur that understands the challenges and benefits of developing new ideas into products that can have a positive impact on healthcare."
The promotion and full-time status expands his role of evaluating, marketing, and seeking partnerships for new inventions, cures, treatments and medical devices developed at UNMC and UNO. Dr. Scherr first joined UNeMed as a part-time intern in 2017.
UNeMed's mission is to help UNMC and UNO researchers, faculty and staff move innovations and ground-breaking discoveries beyond the laboratory and into the marketplace. Dr. Scherr joins UNeMed's talented stable of licensing experts who work every day to advance the University's new discoveries into the future cures, treatments and products that might one-day affect millions around the world.
"The past year-and-a-half at UNeMed has been one of tremendous personal and professional growth," Dr. Scherr said. "I'm deeply honored to accept this position, and I'm excited to continue working with UNMC's and UNO's gifted inventors and entrepreneurs."
A native of Aberdeen, South Dakota, Dr. Scherr is the son of Dave Scherr and Liz Cox. He is a 2011 graduate of the University of Nebraska-Lincoln with an undergraduate degree in Biological Systems Engineering. Dr. Scherr received his doctorate in Biomedical Research from UNMC in December of 2016.
Dr. Scherr's technology portfolio: